offers not only affordable yet comfortable accommodations but is also located right in the heart of George Town's inner city.

With only a few minutes walk to many places of interest like Chinatown, Little India,
museums and historical sites, this motel is also quaintly housed within two recently renovated heritage
| | |
| --- | --- |
| | townhouses to capture the urban charm of our multiethnic and multicultural Penang. |
Warm and friendly staff is at hand to welcome you and to make your stay with us in Penang memorable.
All 55 rooms are fully-air-conditioned. Selected rooms have attached bathrooms.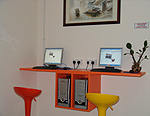 Free broadband internet facilities.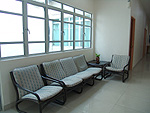 A common room with TV, library. ASTRO – satellite TV network with full channels of sports, news, entertainment, documentary and children's programmes.
is centrally located in historical, bustling Georgetown, the heart of historical city Georgetown Penang, Malaysia. A UNESCO heritage site. The Small Inn situated in the prime commercial centre of Penang offers you the best in entertainment and shopping. Situated along and nearby Penang Road, you are greeted by a vast choice of Local, Western and even Japanese delicacies. Only 25 minutes drive to the airport and within enjoyable drive to all the sight seeing places this "Pearl of the Orient' can be offering.

Visit now
Capital
:
George Town
Location
:
5° 26' N (latitude) 100° 16' E (longitude)
Telephone State Code
:
04
Climate
:
Equatorial
Temperature
:
21° - 32° Celsius (70° - 95° Fahrenheit)

Humidity

:
70% - 90%
Population
:
1.4 million (island and mainland)
Size sq km
:
1046.3 (island and mainland)

Must possess a national passport or other internationally recognised travel documents. Passports must be valid for at least six (6) months beyond the period of allowed stay in Malaysia. Check with your own national authorities (Foreign Ministry, State Department etc.) concerning the need for visas, any safety concerns, or any specific restrictions but for citizens of most countries, no visa is needed for short social visits.

Drug trafficking is a serious offence and carries a mandatory DEATH sentence.

Vaccinations are advised - check with your medical advisor. Vaccination certificates required. Emergency medical treatment is free. Medical insurance is recommended.
Historic George Town Trail 1
Historic George Town Trail 2
Historic George Town Trail 3